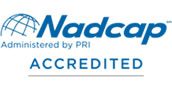 Our capacity varies by procedure; we are able to carry out routine work on parts up to a maximum length of approximately six metres, although this may be limited by additional processes for which standard operating capacity is smaller.
As a specialist provider, however, we are able to offer bespoke solutions for jobs on specialist parts. We take a highly flexible, proactive approach to addressing the requirements of our customers, and we are happy to consider a variety of adaptations to meet your individual needs.
We are a dedicated provider of specialist metal finishing services, concentrating primarily on the anodising of aluminium.