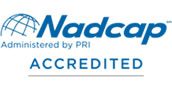 Compared with sulphuric acid anodising, the chromic acid anodising process gives relatively soft, thin coatings, normally of two to five microns thickness. These are used mainly for electrical insulation and general protection against corrosion under mild conditions. Unsealed coatings are used as a 'key' for paints and adhesives. It is light grey in colour, with a very silky texture.
Chromic acid anodising is particularly useful when:
It is necessary to minimise the loss of fatigue strength of workpiece, as compared with sulphuric acid-type processes.
The item to be anodised contains crevices or small blind holes from which it may be difficult to remove electrolyte; traces of the highly coloured chromic acid are easily seen but, in any case, are non-corrosive towards aluminium. In fact, this ability is exploited in the field of crack detection where the presence of chromic acid leaching out of a crack is easy to detect.
The coating is on metal less than 250 microns thick, the process and resultant coating have a less adverse effect upon the properties of the underlying metal.
Applications Include:
Defence industry components – especially those involving explosives, propellants or pyrotechnics where complete removal of the electrolyte is essential for safety reasons.
Components containing crevices or small blind holes.
Pre-treatment for painting, especially in aerospace applications.
Flaw detection – a technique for identifying cracks, folds, inter-crystalline corrosion, machining damage, incipient melting of grain boundaries and cold shuts.
We are a dedicated provider of specialist metal finishing services, concentrating primarily on the anodising of aluminium.