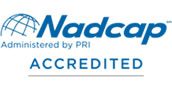 Please use the search facility to find your required specification.
NOTE…
Obsolete specifications such as DEF STAN 151, DTO 910 and DTD 930 may be quoted on old drawings; the requirements of these specifications have been superseded by the specifications listed above.
Certificate of Conformance may be issued against specifications and the relevant testing may be undertaken provided suitable test specimens are supplied.
*Proprietary name
We are a dedicated provider of specialist metal finishing services, concentrating primarily on the anodising of aluminium.