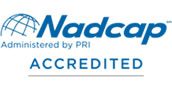 The United Kingdom has a significant presence in the global aerospace industry, having 17% of the total market share. The aerospace industry accounts for 84000 British jobs. Being a NADCAP accredited chemical processing plant since 2008, it has come to pass that over 25% of our business.
Aerospace is the branch of engineering concerned with flying machines like aeroplanes, jets, ballistic missiles, and space probes – any vehicle designed to enter any space from the interstellar medium down to the troposphere.
Precision engineered components designated as aerospace or defence must be treated and processed with a high degree of care and to an apt standard. At HAL, aerospace process sheets are flagged as 'Aerospace / Defence Certification required'. They have extra features like 'operator-controlled variables', where we log data about the physical process conditions particular to that job.
During the contract review stage, quality personnel search for discrepancies between items, orders, and technical drawings.
At HAL, we offer a range of surface finishes that can apply your aerospace parts with desirable physical and chemical properties. Properties like hardness and corrosion resistance, both insular and electrically conductive.
Processes Offered include Hard Anodising, Sulphuric Acid Anodising, Chromic Acid Anodising, Chromate Conversion (Alocrom1200), Chrome Free Conversion (Iridite NCP/TCP), Electroless Nickel Plating high/low/ medium phosphorous, Niklad Ice Ultra, Aqua Blasting, and masking. Chemical conversion coatings produce surfaces that improve the corrosion resistance of aluminium and magnesium alloys. They also increase surface energy which allows the bonding of paints and adhesives.
Anodizing processes are available for aluminium, magnesium, and titanium parts. Chromic and sulphuric acid processes improve corrosion resistance on aluminium and magnesium parts. Chromic acid anodising is suitable for use on components with lapped joints.
Hard Anodising is commonly applied to aluminium alloys, although processes for magnesium and titanium exist. Hard anodised films have high dielectric properties.
Electroless nickel plating improves hardness, abrasion, and corrosion resistance on most metal surfaces. The process deposits a layer of either nickel phosphorous, nickel-tin or nickel-boron alloy onto the substrate. The advantage of the electroless route is that the coating forms wherever the plating solution comes into contact with the substrate, even in deep recesses.
We are a dedicated provider of specialist metal finishing services, concentrating primarily on the anodising of aluminium.